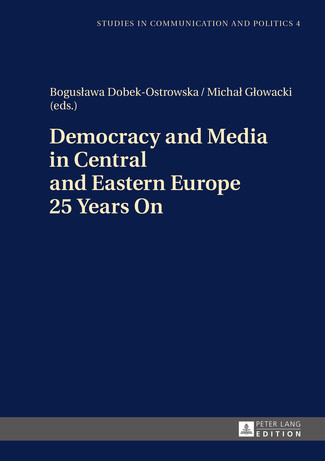 Anna Litvinenko has co-authored (together with Svetlana Bodrunova of Saint Petersburg State University, Russia) a chapter in the book Democracy and Media in Central and Eastern Europe 25 Years On. Edited by Boguslawa Dobek-Ostrowska and Michal Glowacki, the book was published by Peter Lang Edition in late 2015.
Litvinenko and Bodrunova's chapter entitled "Four Russias in Communication: Fragmentation of the Russian Public Sphere in the 2010s" presents the results of a research project on media use patterns of participants of the 2011–2012 'For Fair Elections' protest rallies.
Abstract: Russia today is a fundamentally fragmented society, where according to the sociological study done by Natalia Zubarevich there are four big milieus that have divergent patterns of media use and involvement into public deliberation within a hybrid media system. Anna Litvinenko and Svetlana Bodrunova's research shows that there is a link between media use patterns in post-industrial urban "public counter-sphere" and the protest spill-over, for which newly formed media clusters have played a crucial role during the protests. As Russia is the "world's top networking community" (as stated by Comscore in 2012), the research is expanded by search for echo chambers/opinion crossroads in the Russian Facebook vs. its analogue Vkontakte.
More information on the book, including its contects, can be found here.