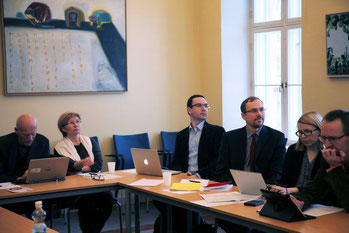 Anna Litvinenko has participated in a kick-off seminar of the project "Russian Media Lab" based at the Aleksanteri Institute in Helsinki, Finland.
The Russian Media Lab is a multidisciplinary research project focusing on Russian media and freedom of expression. The project (which in the next two years, 2016-2018, will be funded by Helsingin Sanomat Foundation) aims to deepen the Russian expertise of Finnish journalists by facilitating interaction between Finnish media, researchers, and students. Professor Markku Kangaspuro and his research team will examine the execution of state control mechanisms, censorship, and the remaining free spaces for independent reporting in Russia.
Dr. Litvinenko presented the ongoing research projects of the Emmy-Noether research group and discussed with the Finnish colleagues perspectives for future collaboration between the Emmy-Noether research group and the Russian Media Lab, as well as the project's partners from the University of Tartu (Estonia) and Uppsala University (Sweden).  
For more details about the Russian Media Lab please visit the project's blog.