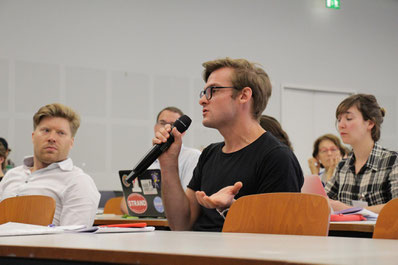 Andrei Zavadski has participated in the Mnemonics 2017 summer school entitled "The Social Life of Memory".  The school took place on September 7-9, 2017 at Goethe University Frankfurt. 
Mr. Zavadski presented a paper on searching the internet as a mnemonic practice co-authored by himself and Florian Toepfl.  
The sixth Mnemonics: Network for Memory Studies summer school was hosted by the Frankfurt Memory Studies Platform.  Organised by Astrid Erll, professor at the Institute for England and America Studies at Goethe University, and the PHD candidates Erin Hoegerle and Jarula M. I. Wegner, the conference brought together over 20 young researchers of memory.  The keynote speakers at the event were Aleida Assmann (University of Konstanz), Andreas Huyssen (Columbia University, New York) and Anna Reading (King's College London).
The full programme of the conference can be found here.