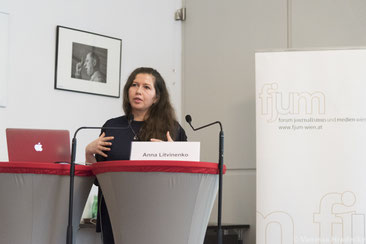 Anna Litvinenko has taken part in the seminar "Understanding News from and about Russia" organised by the Vienna Forum for Journalism and Media and held on February 12, 2017.
The event aimed at providing context knowledge about Russian affairs for international journalists and experts.  Dr. Litvinenko talked about how Russia was covered by journalists writing in German. She presented a content analysis of the coverage of Russia in German-language media in advance of the Russian presidential elections and discussed the factors that influenced international journalists in their work.
Vienna Forum for Journalism and Media  is a non-profit organisation that was founded in 2011 on the initiative of the сity of Vienna. The Forum fosters quality journalism through innovative advanced training, orientation and networking at the international level.