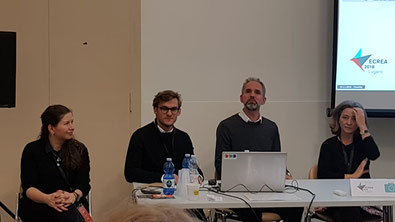 Anna Litvinenko and Andrei Zavadski have taken part in the 7th annual conference of the European Communication Research and Education Association (ECREA).
This year,  the conference's topic was "Centres and peripheries: Communication, research, translation".  The event was held in Lugano, Switzerland,  on October 31-November 3, 2018.  
In total, the members of the Emmy Noether Group presented three papers at the conference.  Anna Litvinenko talked about her research project "A pluralist alternative to state TV? Political content on Russian YouTube during 2018 presidential elections", on the role of the global video-sharing platform YouTube under consultative authoritarianism. 
Together, Anna Litvinenko and Andrei Zavadski presented their research project on the digital remembrance of the Russian Revolution in the year of its 100th anniversary.  The project looked into what memory narratives about 1917 were constructed by leading online media and how these narratives contributed to authoritarian rule. 
Finally, Andrei Zavadski took part in one of the ECREA pre-conferences: "Towards the polyphony of memory? Media, communication and memory in the digital age", organised by Manuel Menke (University of Augsburg, Germany) and Berber Hagedoorn (University of Groningen, Netherlands).  He presented a theoretical paper on memory-based and digitally enabled counterpublics in authoritarian contexts. 
The programme of ECREA 2018 can be found here. 
The programme of the pre-conference on digital memories is located here.