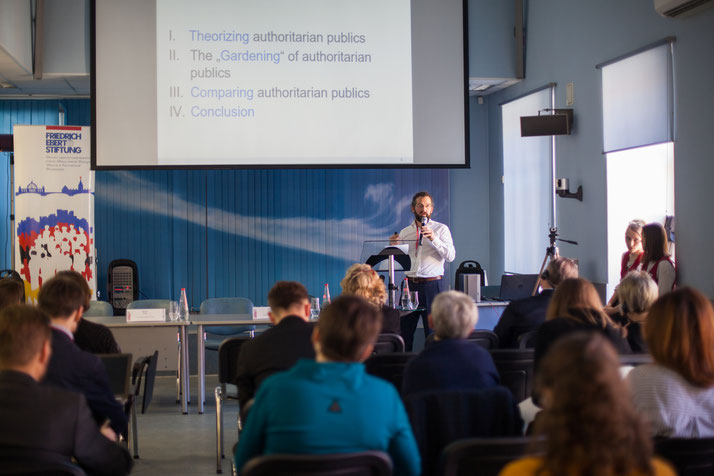 Florian Toepfl opened the 7th international conference "Comparative Media Studies in Today's World" at Saint Petersburg University. He gave a key note talk "Comparing Authoritarian Publics: The Benefits and Risks of Three Types of Publics for Autocrats".
The theme of this year's conference was "Communities. Audiences. Publics". It took place on April  17-18, 2019 at the Institute of Media and Communication Studies, St. Petersburg State University. 
Anna Litvinenko and Daria Kravets, both of the Emmy-Noether Group, also took part in the conference. They presented their research in the section "Politicization of communication platforms". The former talked about the role of YouTube during the Russian presidential election campaign in 2018, while the latter compared the ways in which search engines Yandex and Google constructed memories of oppositional protests in Russia. 
The second day of the conference began with the panel discussion "Comparative projects involving Russia: methods and results" moderated by Anna Litvinenko. Researchers from Germany, Denmark and Poland, including Florian Toepfl, talked about their experiences of conducting comparative studies and reflected on methodological challenges of comparative research projects. 
The programme of the conference is available here.